Away for 5 Days!
Ade ime gia 5 meres sto Hamburg! Apo ton 28.7-1.8 den tha ertho ONLINE! Tha ta pume tin Tetarti!
Filakia, Katerina kai Rock on!

Hellooooo
Prota signomi pu waso tora ta NEWS alla den ixa ora!!
O Affiliate mas TH-melsweet wrikama kati..
To CD-Cover apo to "Ready,set,go!"
Stin Site www.tokiohotel.de iparxi ena Backstage-Club!
Ta agoria grapsane kai ena Grama!
"Spring nicht" sto 1. stin Russia!
Kala re pote ftasan toso grigora sto 1? Kala kala..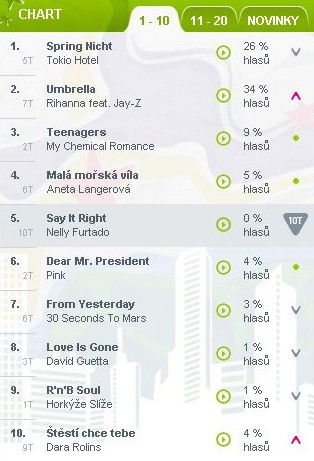 Sxoliko wiwlio apo ton Georg sto eBay!
Pos skeftete esis? Nomisete oti ine alithia to wiwlio tou i ine psema kai thelune na kanune kapoi lefta!?

Zaba Sinawlia ston Pigro tis Galias kai Release stin UK!
Kalimeraaaaaa!
Sindoxronos sti Galia exi Open-air koncerto gia tin ethniki giorti, ine i germani stenaxorimeni pu den tha exi open-air sa ftus!
" H Teenie-Band Tokio Hotel dinunen tus Galikus Fans ena Open-air koncerto - kai afto zaba!
Ta agoria tha peksun stin ethniki giorti pu ine ton 14.7. sto Parisi kato apo ton Pirgo!
Stin galikia Site lei oti o Bill Kaulitz tha tragudisi 3 Tragudia!
To koncerto pu ine apono se enea Marsfeld arxisi tis 20.00 ora.
Dipla apo tus Tokio Hotel tragudane kai ali Stars. I Nelly Furtado,kai o popking Michael Jackson!
Ena miso ekatomirio apo anthrupo tha erthun.
(http://www.tah.de)
A kai stin UK-Site lei :
"The single 'Ready, Set Go' will be out 20th August on two CDs, 7 inch vinyl plus download. Keep a look out for the exclusive new UK track on one of the CDs.

The album will be available from 27th August, and as well as all the tracks on the international English version,it'll come with two awesome new tracks.
We'll be bringing you more soon – stay tuned. "
(:http://tokiohotel.pop24.de/uk/)
Ego tha elega ena tragudi ine "Raise your Hands".
Ti lete esis?
To Tragudi den to iparxi sto Room483/Scream CD!!
To Video to wlepete kato apo to " Movie Box"
Ade ta leme, Katerina

Kane masi se ena Fan-Video!
Kalimera Pedia!
"Ready,Set,Go!" tha erthi telos to Kalokeri sto UK!
I UK-Page psaxni tora anthropi pu pesun mazi gia ena Fanvideo.
Porune na kerdisune ena Meet & Greet me tus TOKIO HOTEL!!
Pos sas fenete esas oti afti porun na kerdisun amosos kai ena Meet & greet?!
Miliste gia fto to thema sto "kommentieren"!
Pos na kanis masi?
Kane esi ena "Ready,Set,Go!" Video. Ama in pio trelo apo to alo, pio kalitera gia sena gia na kerdisis!
Dose tu Tragudi to dikosu Style!
Ala: Prepi na to kanis to Song sta ANGLIKA!
Ta pio kalitera Videos tha ine apono stin CD apo tin UK-Site!
Pragmate pu xriasese gia na kanis mazi!
1. Wale to dikosu Video sto PC, opos thelis me Camcorder i to Kinito esis dialete!

2. Meta pigenis sto www.megaupload.com kai ma fto to Site stelnis to Video stus Tokio Hotel!
3. Pata "Select a file to send" kai psachse tu Video su kai pata "open"
4. Sto "Recipients Address" tha grapsis tokiohotel@hyperteams.com
5. Grapse to Email-addy su pu lei "Your Email adress"
6. Sto "Description" prepi na dosis aftes tis plirofories (sosta to egrapsa?!xD)
"Tokio Hotel - To onoma su - Poli pu menis - Xoros pu menis"
7. Diawase to "Disclaimer" !
Meta ama to estiles tha su erthi ena Mail pu lei ama eftase ti Video su!
Pigeni mono mexri ton 17. Awgusto!
(to xero apo to: Nach http://tokiohotel.pop24.de/uk/)
Ade pao ego tora na kimitho nistaksa xD
Ta leme awrio! Kali nichta, Katerina

Kalimera!
Giasas ego ime i Katerina kai "dulewo" gia tin site www.th-paradies.de
Tha prospathiso na ta walo ola sta ellinika gia sas =D
Xero oti ta Ellinika mou oti den ine kala, ala efxome na ta katalawenete!

Arxisume me ti prota News!
Xerte kiolas? To "Ready Set go!" Video to iparxi =D

Pata edo gia na dis to Video
Afiste me kai comments, kai peste pos sas fenete to Video pu ine sta anglika!
Filakia, Katerina